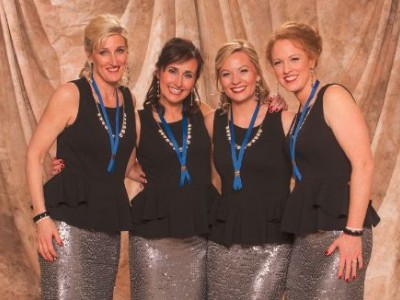 Drive! Quartet is proud to have earned First Place medals in the Greater New York/New Jersey 2016 regional quartet competition, and they will compete this October in our organization's international quartet competition in Las Vegas, NV.  Quartet members hail from various corners of New Jersey and New York....hence, the name Drive!   Members of this energetic foursome include tenor Diane Duff and lead Carol Beckmann, both from Garden City, NY and long time members of Greater Nassau Chorus. Baritone Patty Danner, who lives in Randolph, NJ, has enjoyed a long affiliation with Hickory Tree Chorus. Their newest member is bass Loren Vaughn from Somerville, NJ.  Loren, who sings with Harmony Celebration Chorus, joined the group in August of last year and showcases a long and impressive history in the barbershop community.
Awards and Achievements:
2016 Region 15 First Place medalists.