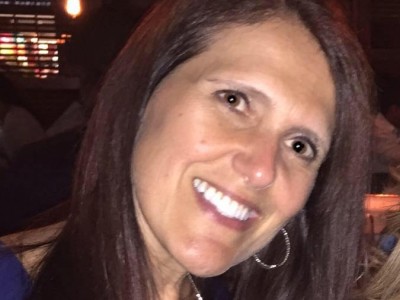 Janene DePalo was having a lot of fun directing high school musicals, but she really wanted to have as much fun as the student stars she directed. So in 2007, she looked around the local musical landscape and found a place to grow with Hickory Tree Chorus. She's been singing with HTC ever since – with the chorus, in VLQ's, with Midnight Rhythm and Moonstruck quartets, for three years with the Women's Harmony Brigade, and almost every gig, big or small, that comes our way!
"Janene has grown so much since she joined HTC, and she's an incredible team player," says Hickory Tree Chorus Master Director, Carolyn Schmidt.
A star performer who commands your attention, Janene is a part of Hickory Tree Chorus's Visual Team, serving as Co-riser Captain and, bringing her director skills, has been Show Coordinator for the last few years.
She good-naturedly accepted the Lead Section Leader position, only shortly after assuming the Assistant Section Leader title, because she knew she was needed. She quickly grew into the position earning the respect of her fellow Leads. Members love and respect Janene for stepping-up when needed and for the love and respect she shows everyone.
Her friend, Drive! Baritone, and Hickory Tree Chorus associate member, Patty Danner says, "Janene recognizes when something needs to get done and just does it; no recognition needed. She does it for the good of the chorus. I have especially seen this behind the scenes at Hickory Tree Chorus shows."
Janene is a dedicated teacher in the Livingston, NJ school system. It is there that she has directed the high school spring musicals for many years. She introduced barbershop singing to her elementary school students with a small assembly and by helping some of her students, who are Girl Scouts, earn their YWIH badge. Her 'favorite' children though are her nephews, Jaden and Nicolas, and we're pretty sure she's their favorite aunt!
Janene personifies the best of Hickory Tree Chorus - friendly, talented, generous - and for that reason, we are proud to name her Hickory Tree Chorus's 2016 Woman of Note.