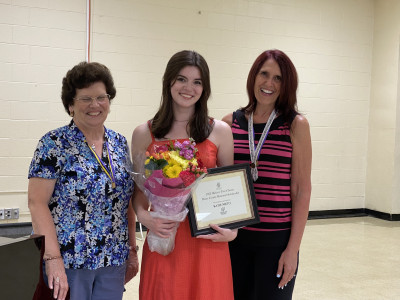 We were lucky enough to be entertained by our 2022 Scholarship Winner, Katie Nieto, from Kinnelon High School.  
She is such a talented musician who sings, acts and composes!  She'll be attending Berklee College of Music in the fall pursuing a degree in contemporary writing and production with a voice principle.
Katie has been playing piano since she was 6 years old and singing for as long as she can remember. Katie has participated in county, region and statewide ensembles (including the New Jersey All State Mixed Chorus) since she was in 6th Grade and has ranked in the Top Five as a Soprano 1 on multiple occasions. She has also performed in various productions in Off-Broadway theaters in NYC, as well as Paper Mill Playhouse's New Voices Conservatory since 2019. As a music director and arranger, Katie co-founded the Breaking Barriers Theater Company and assisted them in their production of Spring Awakening and various cabarets. As a composer, she wrote the book, lyrics and score for an original musical entitled "Waiting for Tuesday '' about LGBTQ+ self-acceptance, and has since premiered it as an industry reading.