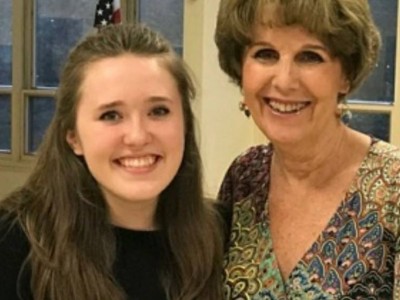 Last night, we had the pleasure of meeting and listening to performances by our 2017 Scholarship winner, Bailey Grey.  She is a graduating senior from Livingston (NJ) High School and has been involved with music since she was a child, joining the cast of the Mary Poppins National Tour at age 10. 
Bailey has sung in four high school ensembles, has had leading roles in her high school musicals, played cello in the high school orchestra, and performed as a soloist in school cabarets. Bailey is a section leader, and a leader in the high school theater department.  She is a member of the Tri--M Music Honor Society and received a National Italian award. 
Outside of school, Bailey has been involved with many regional theater groups and on television. Next year Bailey will attend the Royal Conservatoire of Scotland. 
Bailey is extraordinarily talented and very genuine.   Everyone agreed that she made each of us feel like she was performing to us personally, drawing us into the story and song.  Here are 3 of the five songs she performed for us:
'Home,' from Beauty and the Beast  - https://www.youtube.com/watch? v=HdRKxMkg_Gg
'Silver Jeep,' an original song written when Bailey was a freshman. The song speaks of her friendship with a senior classman - https://www.youtube.com/watch? v=AGZ4-HNKY-I&feature=em- upload_owner
'Gravity,' by Sara Bareilles - https://www.youtube.com/watc h?v=fi8gPkEIKvc&feature=em- upload_owner