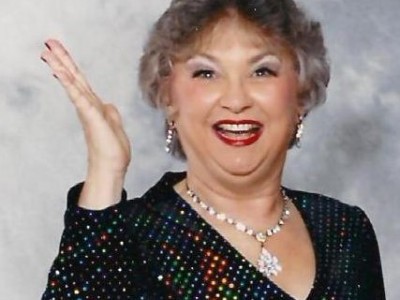 Lyn Ertle, Hickory Tree Chorus tenor, stands a statuesque 5' ?", but packed into this small frame is a wealth of talent and grit. 
Lyn joined HTC in the late 70's, and after spending a short time as lead, switched to tenor after singing in a fun quartet and discovering how much she liked the part. As her closetful of sequined gowns attests, Lyn has competed multiple times in four different Region 15 quartets because her vocal gifts have enabled her to blend effortlessly with a wide range of quartet leads.Her quartet affiliations have included Brocade and Four Baris quartets.  In addition, among her Fascinatin' Rhythm quartet competitions, she achieved Second Place.  With Madison Avenue quartet, she brought home two Regional blue ribbons and thus competed twice on the International quartet stage.
More than anything, Lyn epitomizes selflessness and loyalty as a chorus member.  She's competed internationally with HTC eight times and regionally every year since joining.  Although she danced a short stint as an HTC front row member, for her riser years Lyn has skillfully handled the challenging moves of various choreographers, all the while balancing on here eighteen-inch wide wooden box. 
She's been a tenor section leader for 35 years and through the decades, has committed untold hours to rehearsals, meetings, performances, fundraising and chorus events of every kind, in addition to balancing the demanding roles of wife, mother, grandmother, church choir member and fulltime elementary teacher.
On the basis of her musical gifts, her longevity in Hickory Tree, her commitment to the barbershop tradition, and her essential kindness and personality, the Hickory Tree Board of Directors nominates Lyn Ertle for the 2017 Region 15 Women of Note.